On a drizzly May afternoon, a man in gray sweatpants and a black Bengals hoodie sold a half-gram of heroin for $70 inside a dingy market on the west side of Cincinnati.
The buyer was a plainclothes police officer; the seller was promptly handcuffed. The bust was the first of two that a team of local police would make that Thursday and one of several heroin-related cases to cross their radios: Three people overdosed, and another was caught driving under the influence. Compared with some days in their district, it was pretty slow.
Heroin has become so pervasive in cities such as Cincinnati and so profitable for the cartels that supply it that even cops admit the sporadic arrests they make have little effect. "It's really not going to make any impact out on the street,"
says Detective Brandon Connley, speaking from the damp parking lot outside the market. "Everybody and their mom sells drugs these days. There's always somebody right there to pick back up."
Millions of Americans got hooked on pain pills during a prescription binge that started in the 1990s and peaked around 2011.
As states have tightened monitoring and doctors have reduced dosages, it's become harder for addicts to get prescription painkillers, driving many to get their fix off street drugs. Mexican cartels and big-city gangs have capitalized on the shift, extending networks of dealers across the U.S. and flooding the market with cheap heroin, according to law enforcement.
Cartels have begun lacing heroin with synthetic opioids including fentanyl, making a dose more addictive and cheaper to produce.
Overdose reversal shots are helping addicts survive, often to use again, giving dealers a steady supply of repeat customers. With persistent demand and increasingly wide profit margins, 2017 is shaping up as the most profitable year ever for the U.S.
heroin trade
.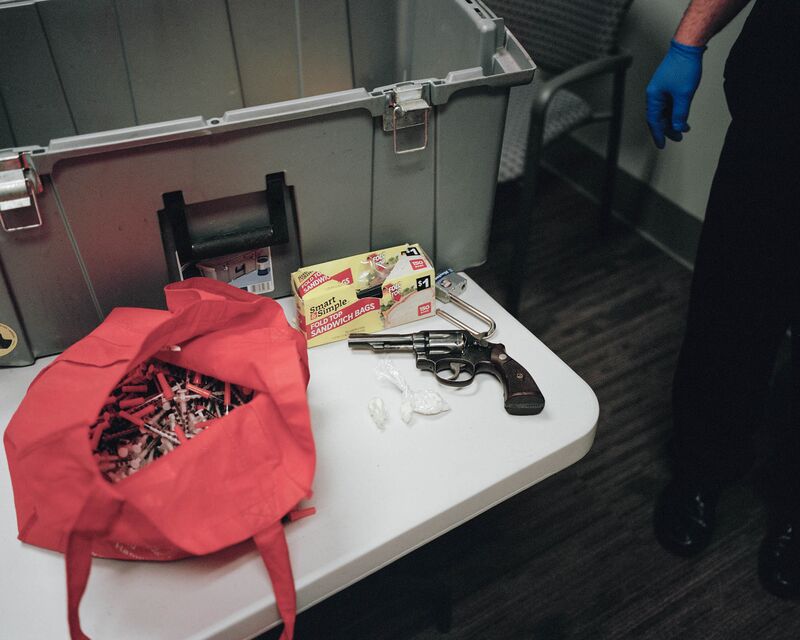 "We are seeing an unbelievably sad and extensive heroin epidemic, and there is no end in sight," says Daniel Ciccarone, a medical doctor at the University of California at San Francisco who studies the heroin market. "We are not, in 2017, anywhere close to the top of this thing. Heroin has a life force of its own."
Cincinnati has emerged as a center of the crisis. Dealers there are creative in marketing their product. Local police say they've seen them text their customers to advertise Sunday specials—two-for-ones and free samples, all set up on car hoods in a park. Some dealers have scheduled business hours. Others throw "testers" wrapped in paper slips printed with their phone number into passing cars, hoping to hook new business.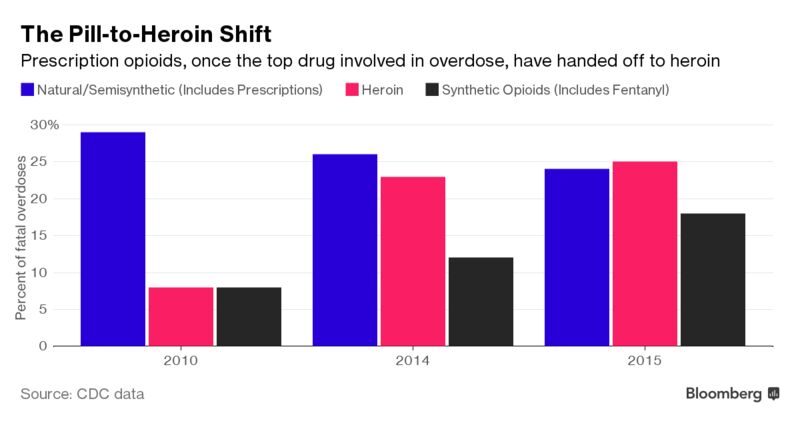 Making fentanyl in a lab costs about the same as producing heroin, $3,000 or $4,000 per kilogram, according to a Drug Enforcement Administration spokesman. Once it's diluted and retailed, fentanyl brings in $1.2 million—more than twice the $500,000 a kilo of heroin commands.
To make heroin, cartels need to grow poppies in fields that can be hard to hide. All you need to make fentanyl is a lab, chemicals, and an able chemist. Cartels often bring in fentanyl from Mexico, though it's also mail-ordered from China and shipped straight to the U.S. Police are beginning to worry that suppliers could manufacture fentanyl domestically. "With the potential that we're going to see fentanyl labs popping up everywhere, I think it's going to get worse before it gets better," says Tim Reagan, a DEA agent in Cincinnati.
A lethal fentanyl dose is 2 milligrams,
the weight of a few grains of salt, and addicts were wary of using it at first. Now many seek out what they call "the fire" for a stronger high, says Cincinnati Police Sergeant Frank Beavers, a plainclothes investigator. That's made fentanyl into something of a success story for its sellers:
It kills some customers, but those who survive end up with a more powerful addiction.
https://www.bloomberg.com/news/features/2017-05-11/the-heroin-business-is-booming-in-america