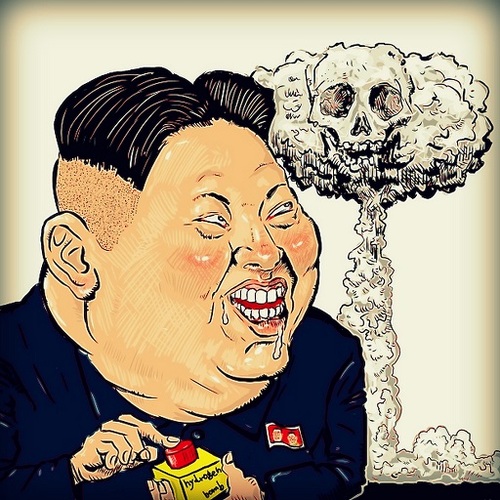 NORTH KOREA THREATENS U.S. WITH PREEMPTIVE STRIKE
WASHINGTON – North Korean dictator-for-life Kim Jong-un is warning the U.S. to prepare to become an ash heap in a "super-mighty pre-emptive strike" he is ready to launch, as the increasingly isolated state continues to threaten neighbors and America with nuclear war.
Meanwhile, China and Russia are stepping up the pressure on Kim to back off, while the U.S. prepares to test its ability to shoot down North Korean missiles.
Chinese air force land-attack, cruise-missile-capable bombers were put "on high alert" this week as officials there contemplate the possibility of a refugee influx from North Korea. Chinese aircraft were also placed on full readiness status.
Chinese Foreign Ministry spokesman Lu Kang saying Beijing was "gravely concerned" about North Korea's recent nuclear and missile activities while simultaneously praising Washington's approach to the issue.
"American officials did make some positive and constructive remarks … such as using whatever peaceful means possible to resolve the (Korean) Peninsula nuclear issue. This represents a general direction that we believe is correct and should be adhered to," Lu said.
China is also considering halting crude oil exports to North Korea should Pyongyang conduct another nuclear test, a prominent Chinese expert told The Nikkei, signaling a tougher attitude by Beijing toward its rogue neighbor.
A nuclear test or the launch of intercontinental ballistic missiles would violate United Nations Security Council resolutions, and China is certain to respond with additional sanctions, said Zhang Liangui, a professor at the Chinese Communist Party's Central Party School and noted authority on North Korea.
The option to cut off the North's crude supply will be put on the table, Zhang said, while stressing that the Chinese government will ultimately decide its course of action.
North Korea relies almost entirely on China for oil. The Asian giant shipped about 500,000 tons of crude to the North each year until 2013, according to the Chinese customs agency. Bilateral ties cooled that year after Pyongyang carried out its third nuclear test, and exports officially have remained at zero since 2014. But China is believed to still provide crude to North Korea off the books. A complete freeze would impact the North Korean economy.
Russia, too, is reinforcing its border with North Korea by relocating troops and equipment, according to various reports.
On Thursday, the U.S. Air Force dispatched a nuclear sniffer aircraft to the east of the Korean Peninsula amid the possibility of North Korea's imminent nuclear test, a government source said.
Its mission is to collect samples from the atmosphere in order to detect and identity a nuclear explosion.
It arrived at Kadena Air Base in Okinawa, Japan, early this month amid indications that the North is preparing for another nuclear test.
All of this while a report by a United Nations panel of experts says North Korea is making rapid progress on developing submarine-launched ballistic missiles and missile-firing submarines.
"Rapid technological developments have taken place over a short period, resulting in significant progress towards an operational submarine-launched ballistic missile system," the eight-member U.N. panel of experts stated.
Last Monday, the U.S. Defense Department commenced a new, massive study into its nuclear weapons arsenal, looking at how weapons are kept, how the U.S. would use them in war and whether they present an intimidating enough threat to other countries not to attack us. The review was mandated by President Trump in a Jan. 27 memo.
The Pentagon is scheduled to complete the review by the end of the year, an essential step as the military seeks to modernize different aspects of its nuclear deterrent.
Meanwhile, a new report from the United Nations Institute for Disarmament Research argues that as the modern battlefield becomes more technologically complex, crowded with more sensors, satellites, drones, and interconnected networks, the risks of another nuclear accident are on the rise.
"A greater reliance on automated systems can lead to misplaced confidence while introducing new points of vulnerability," says the report. Those new points of vulnerability include so-called "hidden interactions." That means a sensor or computer program misinterpreting some bit of data and possibly presenting false information in a way that could cause an accident.
Take those satellites, combine them with sensors on drones and data from other sources as well, including new, perhaps unproven technologies to detect missile launches and the picture becomes much more crowded and murky.
"The complex interactions and tightly coupled systems linked to nuclear arsenals (like those for early warning, and launch command and control) have made 'accidental war more likely,'" the report's authors say.
Read more at http://www.wnd.com/2017/04/north-korea-becomes-a-nuclear-flashpoint/#ykJt4PS6834WSfvd.99