Safety Crisis: Planned Parenthood in St. Louis Hospitalizes 65th Patient While Congress Fiddles and Media Ignores
March 28, 2017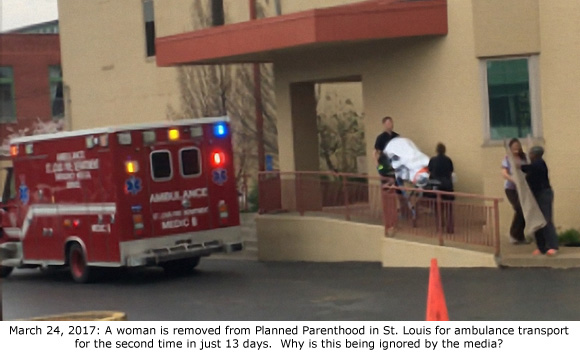 St. Louis, MO - While the main stream media looks the other way, Planned Parenthood abortion facility in St. Louis has sent hospitalized another woman on March 24, 2017 - just an 13 unlucky days after its last medical emergency on March 11.

This represents the 65th documented patient hospitalized with abortion complications by Planned Parenthood in St. Louis since 2009.

"We consider this the most dangerous abortion facility in the U.S." said Operation Rescue President Troy Newman. "If any other medical office in the country was calling for emergency assistance for patients as often as this facility is, it would be a public scandal. Investigative reporters would be falling over themselves trying to expose this safety crisis. But since abortion is involved, there is not one word from the media. Their silence is enabling this dangerous abortion business to continue the carnage of babies and mothers alike."

________________________________


ORDER ABORTION FREE




The new book,

Abortion Free

by Troy Newman and Cheryl Sullenger, tells step by step how to make your community abortion free! It is available for order at

Amazon.com.

________________________________
________________________________
About Operation Rescue®

Operation Rescue is one of the leading pro-life Christian activist organizations in the nation and has become a strong voice for the pro-life movement in America. Operation Rescue is now headquartered in a former abortion clinic that it bought and closed in 2006. From there, Operation Rescue launches its innovative new strategies across the nation, exposing and closing abortion clinics through peaceful, legal means. Its activities are on the cutting edge of the abortion issue, taking direct action to stop abortion and ultimately restore legal personhood to the pre-born in obedience to biblical mandates. Click here to support Operation Rescue.
Click here to make a secure donation online.
________________________________
Web site:
www.operationrescue.org
E-mail:
info.operationrescue@gmail.com